medical dressing Superabsorbent Dressing 10cm*10cm Sterile
Super absorbent dressing with silicone layer is a sterile dressing for use on heavily exuding wounds, consisting of breathable and waterproof nonwoven layer, a super absorbent pad layer, a hydro-penetrating nonwoven layer, a fabric of wicking layer and soft silicone contact layer.

The multi-layered construction facilitates fluid management to provide the optimal moist wound environment which leads to the promotion of faster wound closure.

The absorbent pad provides superior absorption and locks exudates away.

This minimizes the risk of maceration and damage to peri-wound skin.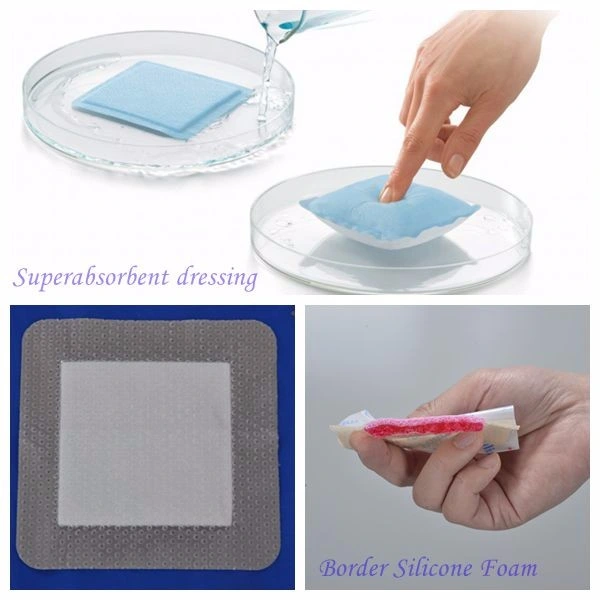 Features:
1.Super absorbency
It absorbs 2 times fluid than a silicone foam dressing, greatly prolonging useage time and thus reducing labor and cost.
2. Competitive pricing
This product takes pricing and environment protection into more consideration. It uses naturally biodegradable nonwoven fabric to make it more cost-efficient and eco-friendly.
3. Silicone contact layer
Almost 90% of the superabsorbent dressings in the market doesn't have this silicone contact layer. Because It needs unique silicone oil production technology and silicone layer perforation technology. We have mastered both technologies and realised stable silicone oil production and accurate perforation.
4. No polymer particle leaking, no second damage.


Specifications:
| | |
| --- | --- |
| Specification | Dressing Core |
| 75×75mm | 50×50mm |
| 100×100mm | 75×75mm |
| 150×150mm | 125×125mm |
| 150×200mm | 125×175mm |
| 200×200mm | 175×175mm |
Certificates
1 CE certificate
2. ISO13485
3. FDA 510K
4. CFDA
Factory Information:
1. Group company more than 40,000 staffs
2. FDA approved company
3. 11 years OEM&ODM experience
4. Strong R&D team,more than 40 staffs
5. Professional and strict quality control team more than 20 staffs
6. Have own core technology
7. Others