Product Informations:
Product Name

Advanced wound care dressing for silicone foam heel dressing

Certificates

CE,FDA,ISO13485

Liquid Absorption Speed

30 seconds

Benefits

1.Excellent wound exudate absorption, reduces the risk of maceration and leakage.
2.Core silicone oil technology provides super gentle silicone contact layer for fragile skin.» Pain free removal and reposition, no second dressing needed.
3.Customized shape design to adapt different requirements.
4.Maintains its integrity during use

Indications

Pressure ulcer
leg ulcer
Non-infected daibetic foot ulcer
Donor sites
Skin abrasions
Post operative wound
Lacerations and abrasion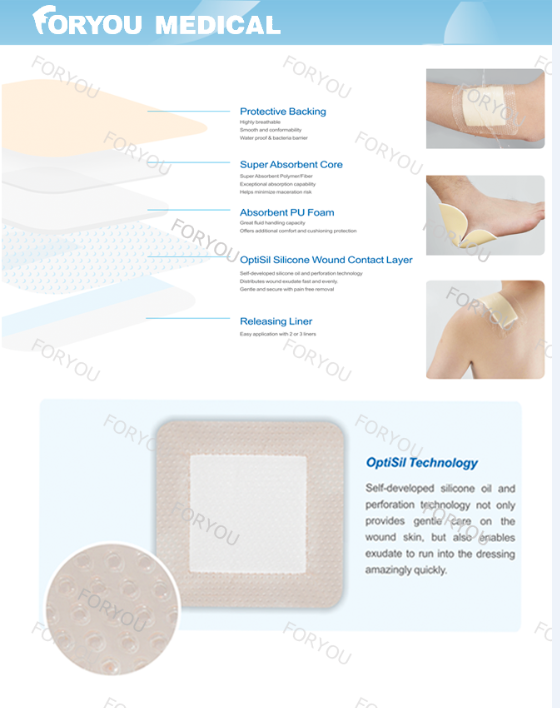 Silicone Foam Dressing is the Leading Actor.
Molnlycke invented Silicone Foam Dressing in last century and it has made huge success.
However, its patent finally expired in September 2014.So every wound care dressing company bursts into this business now.
Why does everybody love Silicone Foam Dressing?
Firstly, it doesn't need second dressing.
Secondly, the silicone gel sheet provide tender adhesion to the wound without any irritation.
Thirdly, the foam could absorb massive exhudate.
Fourthly, it reduces the changing work of nurse and makes it easily. Fifthly, it already has huge market shares.
In other words, composite wound care dressing with multiple functions will lead the trend.
Exhibition Shows: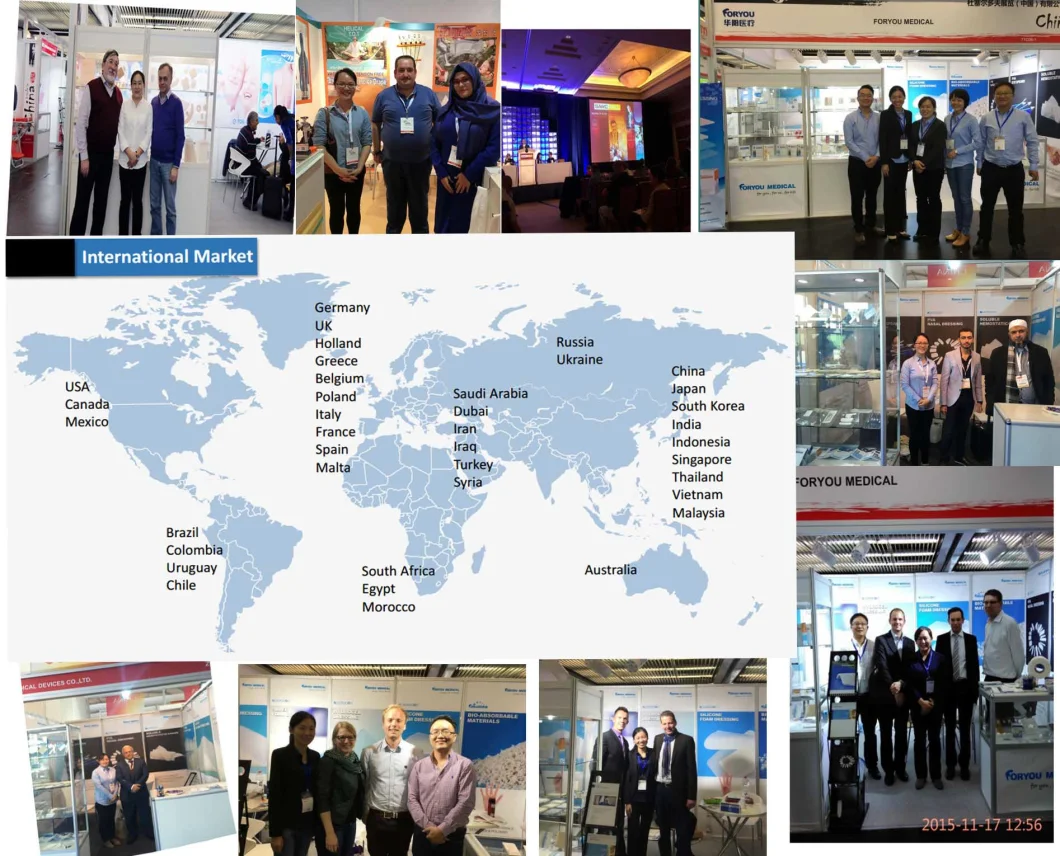 AVAILABLE SIZES:
Items
Codes
Sizes

Border

XS050050F

50×50(25×25)mm

XS075050FR

75×50(45×25)mm(Oval)

XS075075F

75×75(45×45)mm

XS100100F

100×100(62×62)mm

XS150150F

150×150(105×105)mm

XS200100F

100×200(50×150)mm

XS250235FH

250×235(190×175)mm

XS175170FS

175×170(125×120)mm

XS230230FS

230×230(170×165)mm

XS125125F

125×125(85×85)mm

XS300100F

100×300(50×240)mm

Non-Border

XS050050N

50×50mm

XS075075N

75×75mm

XS100100N

100×100mm

XS150150N

150×150mm

XS200100N

100×200mm

XS200130NH

130×200mm

XS125120NS

125×120mm

XS125125N

125×125mm

XS175175N

175×175mm

Remark:Special specifications according to the order of the contract.
Company Overview:
Foryou Medical's advantage:
1st for silicone oil production technology in China.
1st FDA 510K for Silver Alginate in China;
1st & only FDA 510K for PVA Eye Spears;
CFDA Class III for Absorbable Hemostatic Gauze;
1st passed body absorption mechanism test in China;
1st & only FDA 510K for Silver Foam.
Profile of Foryou Medical:
1.Established on March 16,2005.
2.Value:Take technology as the base, quality as lifeline and users like parents"
3.A subsidary of Foryou Corporation.
3.With in more than 200 employees,7% for quality,12%for R&D.
4.Cleansing Workshop:1,500 m2 of 100,000 degree & 800 m2 of 10,000 degree cleansing room.