Foryou Medical CE, FDA approved Silicone Foam Dressing
Border style
None border style
Description (Border Silicone Foam Dressing):
LUOFOCON Silicone Wound Foam Dressing is a superior absorbent dressing for wound exudate management.
It contains high absorbent foam pad and gentle adhesive silicone contact layer.
It maintains moist wound healing environment with no irritation which facilitates healing, minimizes trauma to the wound and reduces pain during dressing changes.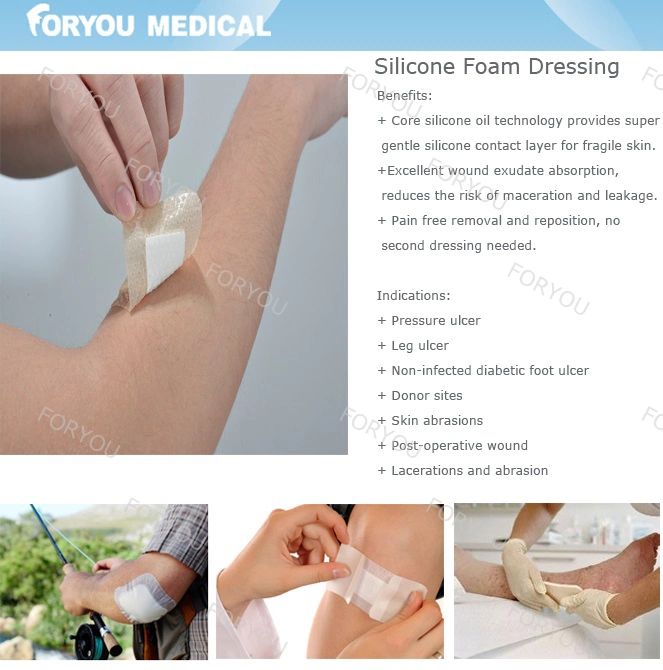 Why does everybody love Silicone Foam Dressing?
Firstly, it doesn't need second dressing.
Secondly, the silicone gel sheet provide tender adhesion to the wound without any irritation.
Thirdly, the foam could absorb massive exhudate.
Fourthly, it reduces the changing work of nurse and makes it easily. Fifthly, it already has huge market shares.
In other words, composite wound care dressing with multiple functions will lead the trend.
Silicone foam dressing is the leading actor in this market right now.
In 2009,we started to do the research for silicone gel scar dressing.
In 2010,we have the technology for silicone oil formulate.
Based on the silicone oil formulate,Foryou started to do the research for silicone foam dressing in 2012.
And In 2014,we have mastered all kinds of technology and start to apply for the related certification.
Through our contitnunous efforts,finally,we obatined the related certificates such as CE,FDA listing and ISO13485 in 2015.

Exhibition Shows:
Exhibition Name

Time

Booth No.

FIME

Miami,US.

August 5-7th,2015

2630

Medtrade

Georgia,US.

October 27-29th,2015

#C H1-1730

Medica

Dusseldorf,Germany.

November16-19th,2015

7.1 C06-1

Dubai International

Convention & Exhibition Centre

Dubai.

25-28th, January 2016

Z7P17

75th CMEF(Shanghai)

Shanghai,China.


17-20th,April,2016.

Hall6.1# V02-V06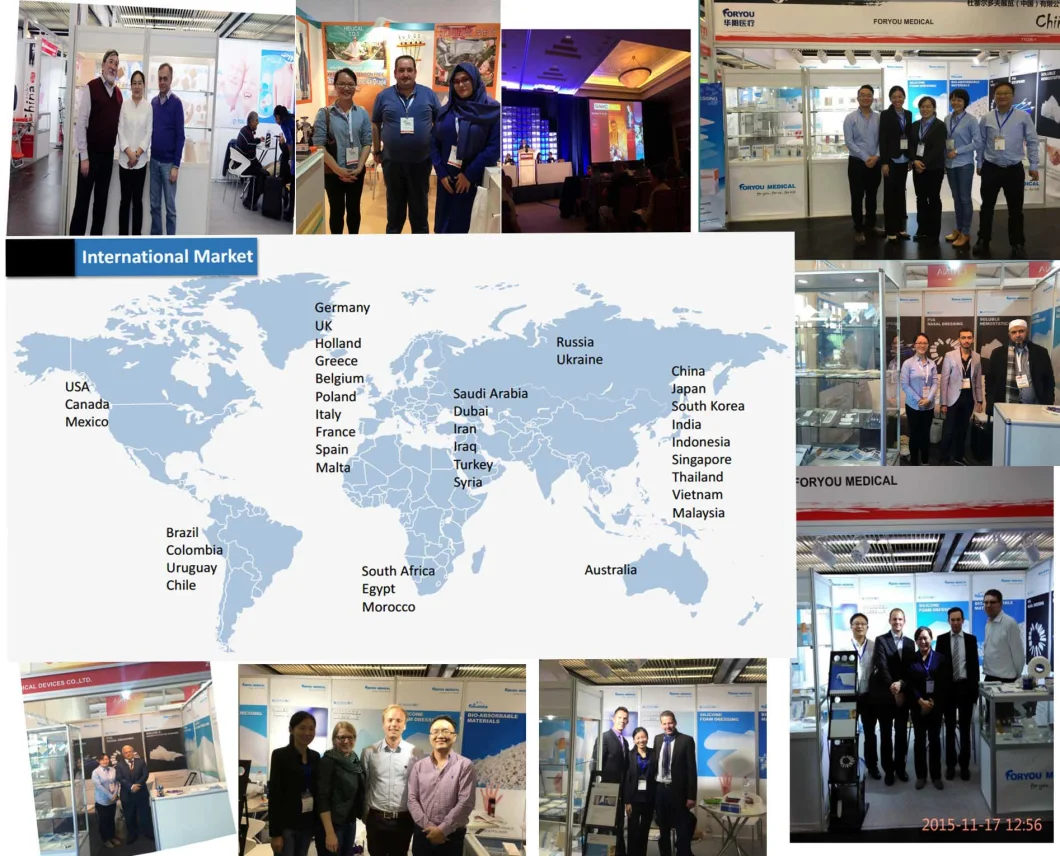 Company Overview:

Foryou Medical's advantage:
1st for silicone oil production technology in China.
1st FDA 510K for Silver Alginate in China;
1st & only FDA 510K for PVA Eye Spears;
CFDA Class III for Absorbable Hemostatic Gauze;
1st passed body absorption mechanism test in China;
1st & only FDA 510K for Silver Foam.
Profile of Foryou Medical:
1.Established on March 16,2005.
2.Value:Take technology as the base, quality as lifeline and users like parents"
3.A subsidary of Foryou Corporation.
4.With in more than 200 employees,7% for quality,12%for R&D.
5.Cleansing Workshop:1,500 m2 of 100,000 degree & 800 m2 of 10,000 degree cleansing room.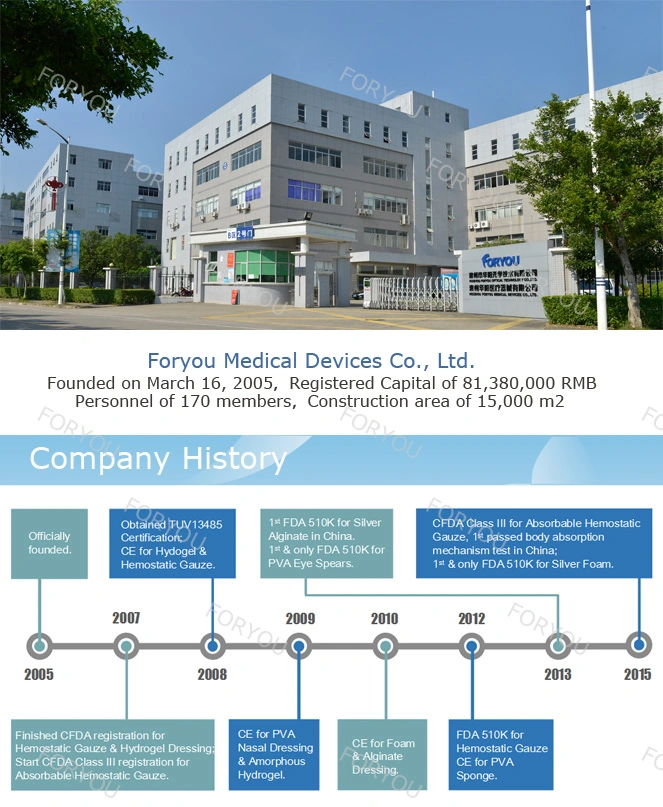 Q:Can I print my Logo on the color box?
A: Yes,It is avaliable to print the cilient's logo on the box.
Q:Can I change the contents inside the color box?
A:Sure,the contents can be changed and replaced as you need.
Q:I need some samples for a test,can I get some samples from you?
A:We'd like to provide you samples,would you mind to cover the sample fees and express freight?
Welcome to contact to us at any time,the accurate price will be quoted in 10 hours after all details confirmed.Have a nice day!